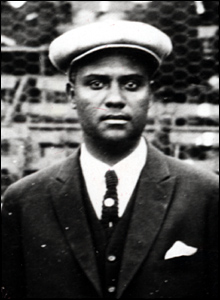 Alexander Pompez at the 1924 Colored World Series
During the 1920s and 1930s, Harlem was a magnet for the elegantly attired. From jazz musicians like Duke Ellington and Cab Calloway to writers of the Harlem Renaissance such as W.E.B. DuBois and Langston Hughes, the sartorially inclined had a wealth of inspirations from which to draw upon. However, if the elegance and lawlessness of the era could be said to have been exemplified by anyone, it was by the man known as El Cubano.
Born Alejandro Pompez in 1890, the Cuban-American made his way to New York in 1910 and found a job making cigars for $20 a week. Within the year, Pompez had opened his own cigar shop at 2122 Seventh Avenue. Over time, the shop would double as a front for his flourishing numbers racket, and El Cubano would maintain the store front for the next 50 years, until his death.
Pompez was also an avid baseball fan, and by 1916 his profits from the Harlem numbers game allowed him to bankroll a team called the New York Cubans. The name was changed the following year to the Havana Cuban Stars, and then the year after that to the more familiar New York Cuban Stars. By his own admission, he was soon making anywhere from $6000-8000 a day. All of this allowed to Pompez to live the high life: he smoked expensive Cuban cigars, indulged his sartorial appetites, and moved to Harlem's fashionable Sugar Hill section.
But the ostentatious lifestyle also attracted unwanted attention. As Prohibition neared its end, the racketeers began branching out - bootlegging had allowed them to amass considerable financial fortunes, and the gangsters were looking for new revenue streams. Across the river in the Bronx, Dutch Schultz had just ended his war with Mad Dog Coll by shooting the Mad Mick full of lead in the phone booth of a Chelsea drugstore. With his attention now undivided, the Dutchman turned his attention to "organizing" the Harlem policy business.
He was helped out by that dark day in 1931 that came to be known as Black Wednesday. On that Thanksgiving Eve, the magical number 527 (a superstitious number regularly played by Harlem residents) actually hit, wiping out numbers banks all over town. Pompez was actually hit for $68000, but had paid all but $8000 or so when he was summoned by one Solly Girsch to the Cayuga Democratic Club in Harlem.
Girsch was a gunman of some repute in the Schultz gang, and he suggested to Pompez that it would be best if he considered purchasing some insurance on his business. Pompez left and thought nothing of the matter until he was visited a few weeks later at his cigar store by two of Schultz' more notable trigger men, Bo Weinberg and Lulu Rosenkranz. Weinberg told Pompez that the Dutchman wanted to see him the following Saturday, and the two actually returned on that day to the shop to deliver Pompez over to the Dutchman.
Pompez, on his way to testify against Jimmy Hines at his 1938 trial on corruption charges stemming from the protection he accorded Schultz' policy "racket"
Pompez later offered a firsthand account of Schultz' unique bargaining tactics. The two met at an apartment owned by the mother of Dixie Davis, Schultz' lawyer, also known as the Kid Mouthpiece. The soft-spoken Schultz asked, "What's the matter you don't want to come in with me?" At which point he took off his jacket, pulled the .45 tucked in his trousers, and set it on the table in front of Pompez as the two sat down. By the time he left, Pompez had become a 40% shareholder in a new policy bank, and was also entitled to a $250 a week salary. While certainly less than what he had been making as sole proprietor of his own bank, 40% of a bank that Schultz' own books showed to be making $12000 a day in 1935 was nothing to sneeze at. Of course, Pompez never actually saw any profits, only the salary, right up until Charlie "The Bug" Workman deposited that rusty steel-jacketed slug into the Dutchman as he stood over a urinal in the Palace Chophouse in Newark.
If Pompez wasn't ready to go toe to toe with a ne'er-do-well like Schultz, he proved much more adept at sizing up talent in the Negro and Major Leagues. He was credited for scouting and signing, either directly or through his network, Felipe Alou, Jesus Alou, Matty Alou, Sandy Amoros, Damaso Blanco, Ossie Blanco, Marshall Bridges, Jose Cardenal, Orlando Cepeda, Tito Fuentes, Gil Girrido, Monte Irvin, Sherman Jones, Willie Kirkland, Coco Laboy, Juan Marichal, Willie McCovey, Minnie Minoso, Manny Mota, Ray Noble, Jimmy Rosario, Jose Santiago, Jose Tartabull and Ozzie Virgil. Many reports also cite Pompez having a hand in the signing of Willie Mays.
Pompez' Baseball Hall of Fame Plaque

Perhaps Pompez's most significant contribution to the history of organized baseball was the opening and mining of the Dominican Republic market. Pompez maintained a relationship with the Giants for 25 years, working for the club as late as 1971. He was eventually named Director of International Scouting. When the National Baseball Hall of Fame started considering Negro league players for induction, he was a member of the first four election committees starting in 1971. Pompez himself was elected in 2006.